VA Loan Requirements 2022
The VA loan is an amazing program that was created to help veterans and service members looking to get into their dream homes. It's guaranteed by the Department of Veterans Affairs and allows eligible borrowers to purchase a home without a down payment.
Being a member of the military is one of the requirements to receive the VA home loan benefit. However, other conditions such as debt and credit history must be satisfied to qualify for the VA mortgage.
In this article, we're going to discuss the VA loan requirements you'll need in 2022.
What is a VA Loan?
The  VA home loan was created in 1944. This mortgage program helps veterans, active duty service members, and their eligible surviving spouses to buy, build, or refinance a home. Some of the VA loan benefits include:
No down payment requirement
No private mortgage insurance
Lower interest rates
Lower closing costs
No prepayment penalty
The Department of Veterans Affairs does not issue the loan. Instead, they guarantee 25% of the loan amount if ever the borrower defaults. This makes it less risky for the lenders and allows them to provide more favorable terms and benefits than other loans currently available.
VA Loan Eligibility Guidelines
Not everyone who serves the Armed Forces becomes eligible for VA home loans. To qualify, you must meet the following VA guidelines:
90 consecutive days of active-duty service during wartime
181 days of active-duty service during peacetime
Served 6 creditable years or 90 days of active-duty service in the National Guard or Selected Reserve
You are the surviving spouse of a veteran who lost his or her life in military service or from a service-related disability. This also applies to spouses of military members missing in action or those who became prisoners of war. Generally, you cannot have remarried.
If you did not complete the required length-of-service due to a service-connected disability or were discharged, you may still qualify for a VA loan. However, you will not be eligible for a VA loan if you received an honorable, bad conduct, or dishonorable discharge.
VA Loan Qualification Requirements
VA loans are issued by lenders. So other than being eligible, you also need to comply with a lender's qualification requirements. Thankfully, VA loans have more flexibility compared to other mortgage types. Additionally, VA borrowers are protected from unreasonable lender fees.
Here are the VA loan qualification requirements:
Down payment. One of the best features of a VA loan is that it doesn't require a down payment.
Credit score. The required credit score will depend on the lender you're working with. Some expect a minimum of 620, while others go as low as 580.
Debt-to-income ratio. With VA loans, most lenders would allow a max debt-to-income ratio of 41%. Debt-to-income (DTI) ratio is the portion of your monthly income that goes to debt repayments. Some lenders would allow a higher DTI if you also have a high residual income. Residual income is what's left of your income after paying major expenses.
VA funding fee. You'll also be required to pay a VA funding fee. It's a one-time payment which usually equals 2.3% of the loan amount. Moreover, you'll have the option to roll the funding fee into your mortgage so that you won't have to pay upfront.
Closing costs. Although VA loans don't require a down payment and PMI, you will still have to pay for the closing costs out-of-pocket. Usually, the closing costs would amount to 3-5% of the loan amount. This will be used to pay for expenses such as title fees, appraisal fees, and loan origination fees.
Property requirements. The property you purchase with a VA loan must be your primary residence for at least 60 days from purchase. You can't use a VA loan to buy a vacation or rental property. However, you can purchase a multi-unit home and live in one of the units. Additionally, the home you purchase should also meet the VA's minimum property requirements (VA MPRs)—meaning it should be safe and sanitary.
VA Loan Limit 2022
The loan limit for the VA loan program will depend on your entitlement.
With a full VA entitlement, there'll be no limit on how much you can borrow. But keep in mind that your lender will approve a loan amount based on your ability to repay it.
You will have a full entitlement if:
You've never used a VA loan before.
You've sold the property you bought with your previous VA loan and paid off that loan.
You have a qualified VA loan beneficiary assume your loan and have them agree to swap their entitlement with yours.
You applied for a one-time Restoration of Entitlement, which will allow you to keep your current home.  You would still have to pay off your previous loan.
On the other hand, a reduced entitlement will subject you to loan limits. As of 2022, VA loan limits range from $647,200 in most counties to $970,800 in high-cost counties. If you need more than that, your option would be to apply for a VA jumbo loan.
Furthermore, the loan limit will also apply if you have more than one active VA loan.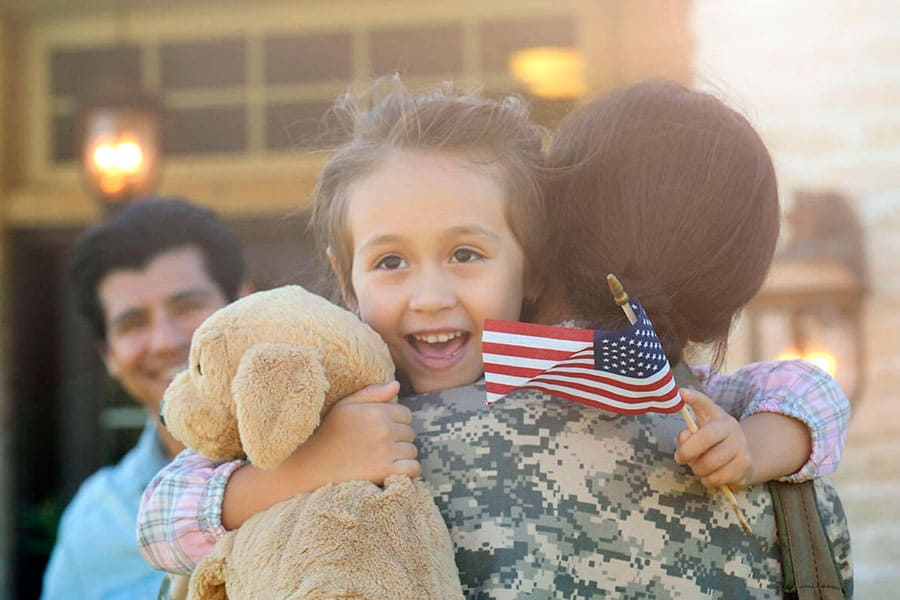 How to Apply for VA Loans
Let's say you meet the VA eligibility requirements, and you're ready to apply for a loan. Here are some of the application steps you need to prepare for:
Proof of eligibility. VA loan application is similar to other mortgage applications except for one thing—the VA Certificate of Eligibility (COE). The COE will tell the lender that you are eligible for the VA benefits. It will also let them know what type of VA entitlement you can receive.
Shop for a mortgage lender. Unfortunately, most lenders are just focused on working with the usual conventional or FHA loans. So this means that you need to look for a VA-approved lender. Consider multiple lenders, compare their rates and terms, and choose the one that suits your financial needs best.
Prepare your financial documents. Gather the documents you need such as W-2s, tax returns from the past two years, most recent paycheck stubs, and other necessary financial information.
Go house hunting and prepare for a VA Appraisal. Probably the most exciting part of homebuying is looking for a house to buy. While this part is fun, you need to keep in mind that the house you're purchasing should meet the VA MPRs. To confirm this, an appraisal, performed by a certified VA appraiser, will be ordered by the lender.
How a Mortgage Broker Helps with Your VA Loan Application
The whole home buying process can be overwhelming, especially for first-time homebuyers. Working with a mortgage broker can significantly improve this experience, making it easier and smoother for you.
At Ebenezer Mortgage Solutions, we have a very large network of lenders (including VA-approved lenders). That means we can do the lender shopping for you, saving you precious time and leg work. With our experience and knowledge, we'll help you choose the mortgage offer that works best for you.
Most importantly, we always have your best interest in mind. We'll be with you from the beginning of your application until you get the keys to your new home.
Call Ebenezer Mortgage Solutions today at (813) 284 - 4027 and let us start working to get you to your dream house.